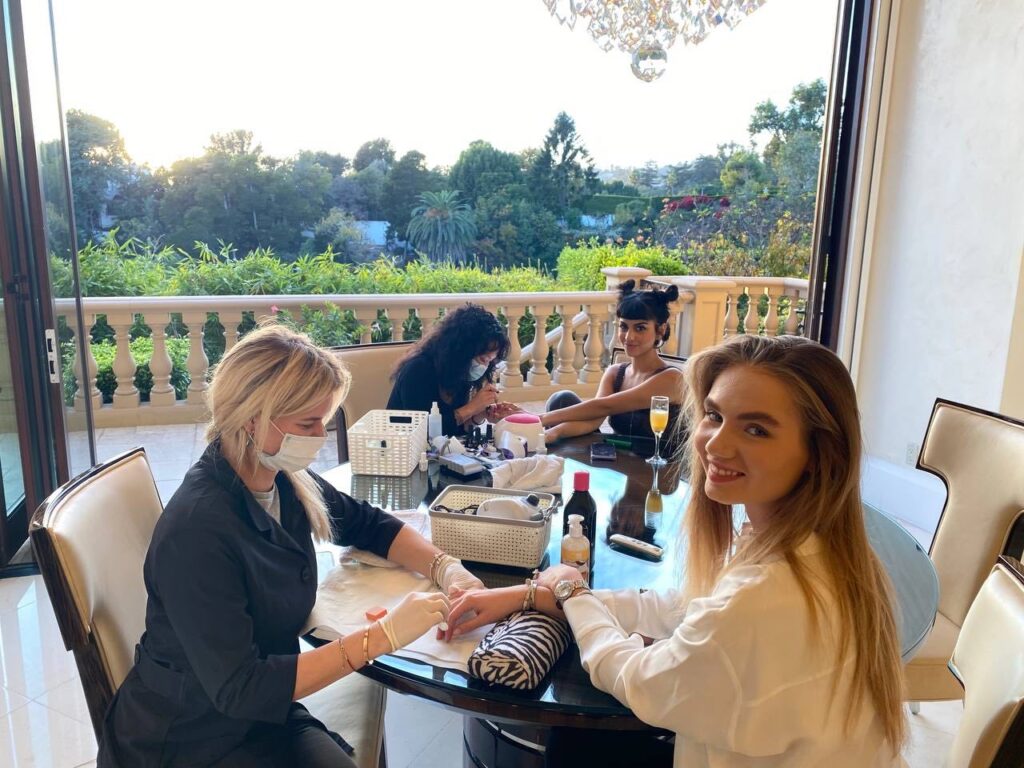 Nail salons have changed the whole perception of fashion and acrylic and gel nails are an essential part now for any party. Now, booking an appointment and getting free time from a hectic routine might get tough, and traveling down to a nail salon in Los Angeles can take up a lot of time. To counter the troublesome and time-taking journey, NailClub La has introduced a mobile manicurist Los Angeles service for you so, you can enjoy premium nail services by the experts in the comfort of your home or office. If you want pedicure house calls or manicure house calls, all you got to do is order the in-home nail services and our nail technicians will make sure that you get all the spotlight of any party.
All the staff and crew at NailCLub LA are certified, professionals. Before hiring any technician, they must through a vigorous screening test, and only they are allowed to become a part of our team. They are passionate, and polite, and know what they are doing to make sure the client always gets the premium service. No matter if you are booking an on-sight appointment or using a house-call nail salon service, our goal is to provide high-quality nail services without compromising on hygiene and cleanliness. Call NAIL CLUB LA in Los Angeles CA today at (310) 848-9760to book your session. If you are looking for corporate nails for an office gathering or booking service for more than one person, call us at the above-mentioned number and we'll take care of the rest. We all know that two's a crowd and three's a party so, if you are booking an appointment for multiple people and your location is over 10 miles from Beverly Hills, 100$ travel charges will be waived.
Our private, elite in-home manicuring services are optimal for people who can't travel due to medical reasons or hectic work life. Our mobile nail service will get to your location and give you the fanciest Mobile Nail & Beauty Services. So, for people dealing with chronic health issues who need special care, we are the perfect partner for you.
Health and safety standards are above all in our code of conduct. It is for both our clients and employees so, no compromise is done to risk the safety of both parties. Ensure that, all CDC guidelines are strictly followed with essential PPEs like gloves, masks, sterilized tools, and skilled technicians. Fast movers like files and buffers are for one-time use only ensuring that cross-contamination is never viable. Our disposable linear system allows our clients to have the best nail house calls without worrying for even a second. We take care of our staff just like the family and ensure they are not exposed to chemicals like solvents, acrylates, dust particles, or vapors. As per the CDC guidelines, we provide a safe and healthy work environment for our employees.
Providing Spa Treatments in the Comfort of Your Own Home
Manicures & Pedicures To Go has made life a lot easier by providing nail salons in Beverly Hills and house calls for people that cannot take the time out of their busy life or have any medical condition that won't allow traveling. For enchanting and aromatic bedside manicure service, NailClub LA has got you covered. For people fighting cancer and other chronic diseases, it is impossible to go out to a nail salon. Our mobile nail technician team will travel to you providing the best services gently and professionally. So, you can just sit back and relax and allow the therapeutic effect to relieve your anxieties and depression.
Our small staff of mobile nail technicians is uniformed and California-licensed. Our screening procedure is rigorous, and our mobile nail technicians are knowledgeable, courteous, and pleasant. When they're not servicing our cherished clients, you may find them backstage at fashion shows handling production nails and event manicures, providing compassionate TLC nail services bedside, or working at high-end spas and hotels throughout Los Angeles.
Our primary goal is to provide a convenient, healthy, and enjoyable in-home or on-site nail care experience while keeping the greatest degree of hygiene.
NOT YOUR ORDINARY NAIL SALON
NailClub LA is not your ordinary salon as our experienced and skilled staff is always there to bring out the best in fashion shows and events. Everyone wants to look absolutely stunning during the event with their breath-taking costumes and topping it off with exquisite nail designs is the perfect finish to shine. Ranging from different types of acrylic and gel nails and unlimited styling options, we got you covered to match any outfit and your perfect formal and trendy look will rock the event. You can book your custom event manicure and pedicure and we will take care of everything.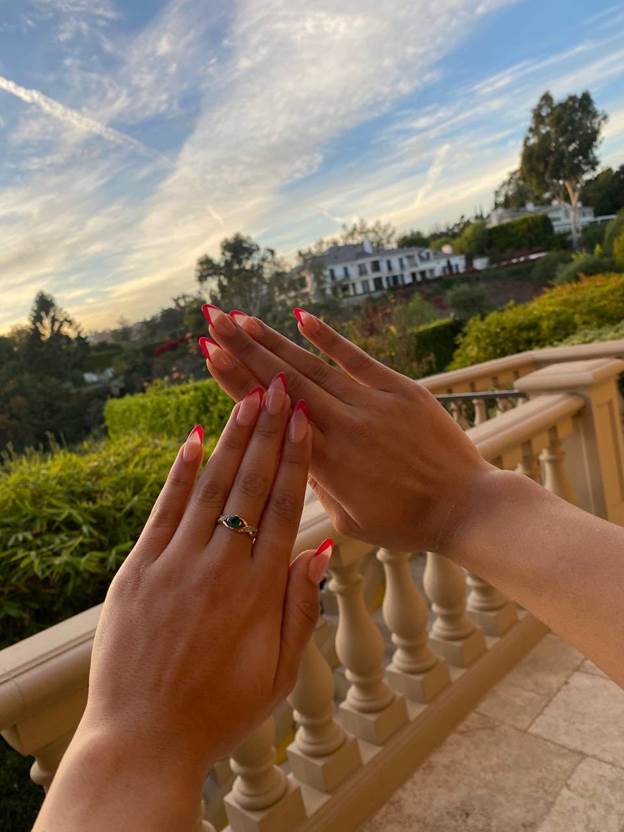 WE ARE RIDICULOUSLY HYGIENIC
Proper disinfection is our number one priority, and we go above and beyond the state's basic requirements. Files and buffers are only used once. Every client receives a new set! Our disposable pedicure liner technology removes the risk of cross-contamination and ensures a worry-free pedicure experience for every client, all the time.
Nail art is getting so much recognition these days and the industry is booming just like any other makeup industry with all the celebrity nail artists going all in with the glam. NailClub LA has professional and reliable nail technicians to handle celebrity clients and private party nail calls. The fashion industry is more reliant on creating a unique yet trendy look to outshine everyone at events and parties. Our technicians are experts in handling NDA private manicures and taking care of your privacy. We handle in-home services allowing complete discretion and nothing will be posted anywhere on social media. We care about your privacy and your perfect look will not be revealed unless you hit the party and put everyone in trance with the perfect nails. Our work speaks for itself and we are the most requested celebrity industry nail artist handling professional clients and events. We also deal in PR/Marketing Company manicure styling the muse with the brand image and you can rock on social media with amazing designs. Our clientele list is versatile from regular clients to film production nails dealing every client with top-notch styling manicure services. For a private party, we are offering discounts and can handle house calls giving your girl gang a matching yet up-to-the-minute look. Small businesses now had a great launchpad via social media and online ad campaigns. We had the perfect team of Commercials and Advertising Campaigns manicurists to glam up the models with your brand image. Our team not only researches the product to know about its qualities but also brainstorms different ideas so clients can walk with confidence with their perfect nails and great service. For celebrity clients we know the importance of discretion and contracts involved, so we are more than happy to sign NDAs to make sure all the clients are at ease. Our meticulous technicians will cater to all your needs and will give you a therapeutic and relaxing experience so our clients can enjoy ideal nails. It is always fun working on the film production nails giving new looks to the celebrities for different scenes. Our team has handled many big companies and our seamless service and professional attitude always garnered us some amazing testimonials that are available on our website.